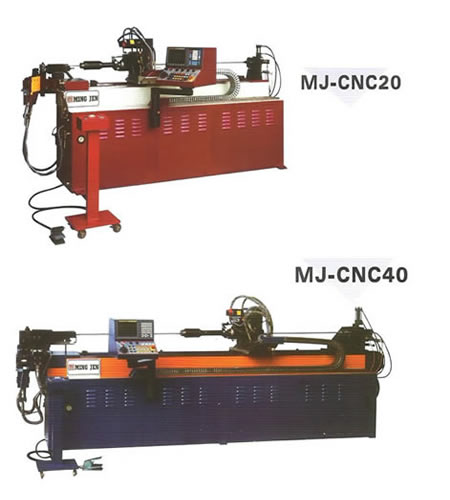 CNC bender series
01.CRT displays in either English or Chinese, optional.
02.RS232 links other computer devices together. Hence, memory capacity is enlarged.
03.The coordinate figures of (X.Y.Z) can be diverted to (F.P.B) processing figures
04.The pre-set accuracy of the x.y.z.axes is 0.1 degree and 0.1mm.
05.Equipped with a counter.
06.Repetitive feeding, thus, when you bend without using a mandrel, there is no limit to the length of a pipe.max 32 bends on one pipe. yet, of linked with a pc, max 50 bends.
07.Optional, automatic mandrellubrication.
08.You may set these 3 axes to move simultaneously so as to save the processing time.
09.One radius or double radii, optional.
10.Programmed to be diagnostic and guarded against illogical/error operations.
11.Operation:manual or auto.
12.Memory can be kept over 3 years without electric power supply.
13.Self-diagnostic, diagnosis displays on CRT automatically if there is any malfunction.
14.Additional interference coordinate and mulitiple feeding allows you to bend such a pipe in one process.